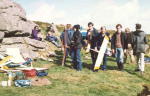 New to slope soaring or want to visit a new site. Check out the PMP slope site listings.

Model Kit Instructions
Read about the design principles behind the PMP range of models
Articles written by Stan Yeo for national magazines on a wide range of topics
On-line instructions on how to construct our EPP Models
Links to Club Sites and Product Information.